Dealing with new scars on your body isn't easy for everyone. I've had scars for as long as I can remember and they've never bothered me a huge deal but during my teenage years I did start to feel a little insecure about them, especially as I was dancing during that time and my dance uniform showed them off quite a lot.
I realised last time I did a blog post about scars I didn't actually put in a picture of my own scars, which was a bit naughty of me really when I was telling everyone to not worry about them. These are the best pictures I could get while still preserving my modesty! The first one is my pacemaker scar, and as you can see the pacemaker is pretty visible as a lump under the skin, in the second one you can see my heart surgery scar, which you can see in the third one goes all the way down to my belly button because I had surgery on my abdomen after my heart surgery so they carried on with the existing scar.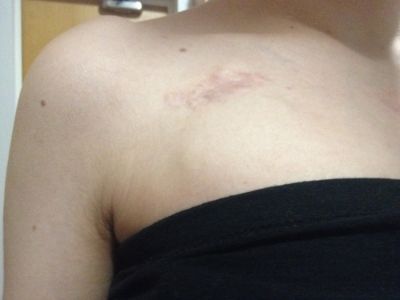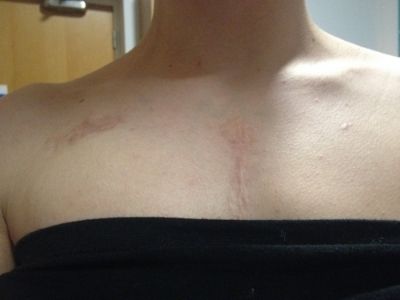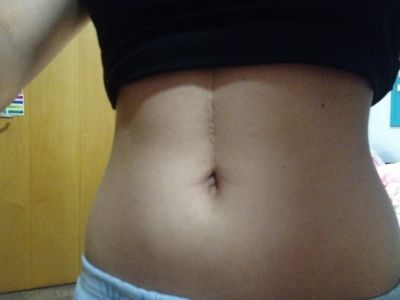 (You have no idea how weird it feels putting a picture of your belly button on the internet!)
It does surprise me how much people stare at my scars when I'm talking to them. I don't really think about my scars much so the only time I'm aware of them is when they get stared at. But I definitely think the staring was worse when I was a teenager and was around other teenagers. So if you're that age and becoming insecure by your friends and classmates staring, trust me it does get better as you and the people around you grow up. I think people stared at my scars, if not everyday, every other day, but now it's quite unusual for it to be as common as once a week. Everyone starts feeling insecure about themselves at that age so it's natural for everyone to be looking at each others bodies to try and figure out what "normal" is, so don't just assume they're thinking something mean. The thing about people is, they're far more likely to be thinking about themselves and how they're acting and how they look and their own insecurities than they are going to be judging or thinking about you.
Scars are an inevitable part of living, whether it's a little mark from a pimple you picked at a little too enthusiastically, a scar from falling down some stairs when you were a kid, or a huge open heart surgery scar, they're all a part of you and a part of your story. You can't and shouldn't wipe out a part of your history just because it's unpleasant. That goes for stretch marks too, I have stretch marks over my hips and bottom because I was really underweight as a child and I didn't have much of a bottom at all, so when I went through puberty, I grew outwards really fast and the stretch marks appeared (Yep, stretch marks happen to petite people too!). Even though they haven't got nearly as interesting a story as my scars, I still don't dislike them, to be honest I'd completely forgotten about them until I thought about writing this blog post. We should just be glad our skin is able to stretch that well, it would be much worse if it started cracking and bleeding! The same with scars, they're not painful or unsightly, besides people pay hundreds and sometimes thousands of pounds to scar their body with tattoos to remind them of their past, you've got an awesome one for free that will always remind you of that operation you survived. Just because scars aren't as fashionable as tattoos doesn't mean they aren't as meaningful or beautiful. Not to mention giving you a bit of a head start when it comes to dressing up as a zombie for Halloween and coming up with awesome stories about your scar actually being from a shark attack for your nieces and nephews. And girls, don't worry, most guys find them cool, you're definitely not going to be missing out on any dating opportunities because of your scars. Men aren't idiots, they know the beauty industry is not an accurate representation of female beauty better than most of us do!
I never think about my scars when I'm buying clothes or choosing what to wear. I don't feel any less uncomfortable when they're on show and when they're not. Even when I was choosing dresses for my school prom, my scars weren't something I was considering. Although, I remember when I was reading Harry Potter for the first time (probably around the age of 8) I had a dream where I walked up to the mirror of erised and I saw myself without any scars, so maybe I was more aware of it than I remember but that's pretty much the only memory I have of wishing I didn't have scars. When I was a teen my best friend had scars too and we chatted about it. So, if you're a teen and feeling uncomfortable about your scars, just chat to your friends about it, I promise you that no one cares about them as much as you think they do and you might find out that someone else has a scar too.
I'll be putting my pictures up on my Instagram to show everyone that scars are nothing to be ashamed about or self conscious of. (check out my new instagram feed on the side bar, and there's a link to follow me there too!)
I hope this has helped you to feel better about any scars you have!